About Fukiu... Honest Haiku
Fukiu [FOOK-yoo] are 17-syllable servings of honesty and humor created by Jorie Henrickson. A fukiu respects the strict 5-7-5 syllable count of classic haiku, but after that it's focused on revolution! Or at least getting some fool to repark his car.


---
The Fukiuniverse is Expanding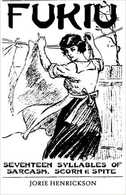 This new subgenre of poetry was first published in the 2014 book
Fukiu
​
.
As humor collided with haiku, the Fukiuniverse was formed! Since then the Fukiuniverse has expanded to social media and storefronts.
Use the form below to request a product list.
​The author regularly posts new fukiu on social media as @FukiuPoetry, and new Fukiuniverse souvenirs are being readied for sale in 2017. A portion of profits will be donated in the name of "poetic justice."
---
Advertise with Fukiu Social Media
Consider a Fukiu partnership!
Sponsored Fukiu cartoons get great traction on
Facebook
and Instagram. Contact the Department of Fukiu to explore possibilities. ​